Cellaviva x the T1D App
Together Against Diabetes 1, T.A.D.1, is a non-profit organisation dedicated to supporting, empowering and facilitating the lives of people living with or close to someone with type 1 diabetes.
In autumn 2016, 17-year-old Elin Cederbrant started the non-profit Together Aganst Diabetes 1.
"I was so incredibly tired of the prejudices, of how little society knew about type 1 diabetes, of the lack of support for people affected and for research. At that time I knew I wanted to do something, and today, five years later, we have completed more projects than I ever dared to dream of."
Since its founding in 2016, the organisation has:
Ran a nationwide information campaign
Helped triple funding for research
Raised over 8 MSEK
Distributed over 2,000 free T1D backpacks to newly diagnosed children
Launched the world's first T1D app with everything you need in one place
T1D app - For everyone with and around Type 1 Diabetes
An app with unique features for an easier and better life with T1D
You'll find a wide range of professionally quality-assured information, materials and features tailored to who you are and your relationship with T1D. The app is aimed at those who are in any way connected to type 1 diabetes, with the aim of providing a unified platform with everything you need in your relationship with T1D. Show who you are by selecting a profile and the app will then customise the information and make the content relevant to you. Choose from:
I/We live with T1D
I/We are newly diagnosed with T1D
Family/Friend/Colleague
School staff/leader
Family/friend/teacher/caregiver
The T1D app is completely free and currently has over 45.000 users
Download it from your app store! The T1D app has been funded and developed by Elin Cederbrant and her non-profit organization Together Against Diabetes1. The vision is "To give everyone living with and around T1D the best, most user-friendly and most accessible tool to make life with T1D easier, safer and better!"
The idea to create a type 1 diabetes app came from Barndiabetesfonden, which in collaboration with T.A.D.1 took the initiative to start up this project.
The T1D app is a project that aims to bring together all organisations and companies focusing on T1D to make a real difference to everyone living with and around type 1 diabetes with shared resources.
In addition to Barndiabetesfonden, Karolinska University Hospital, Beyond Type 1, Beat Diabetes and JDRF have all signed up as partners to the T1D app. Together we are strong and together we have the opportunity to make a real difference.
Backpacks
The specially designed backpack has a compartment for every item needed during a day with T1D
Since April 2019, it has been distributed free of charge to over 2,000 newly diagnosed children and young people while they are in hospital. When it's handed out, it's filled with great information but most importantly, lots of pep!
From autumn 2021, the backpack will also be distributed to adults diagnosed with T1D.
The backpack can also be purchased on tad1.se where all money from sales will be used to fund new backpacks.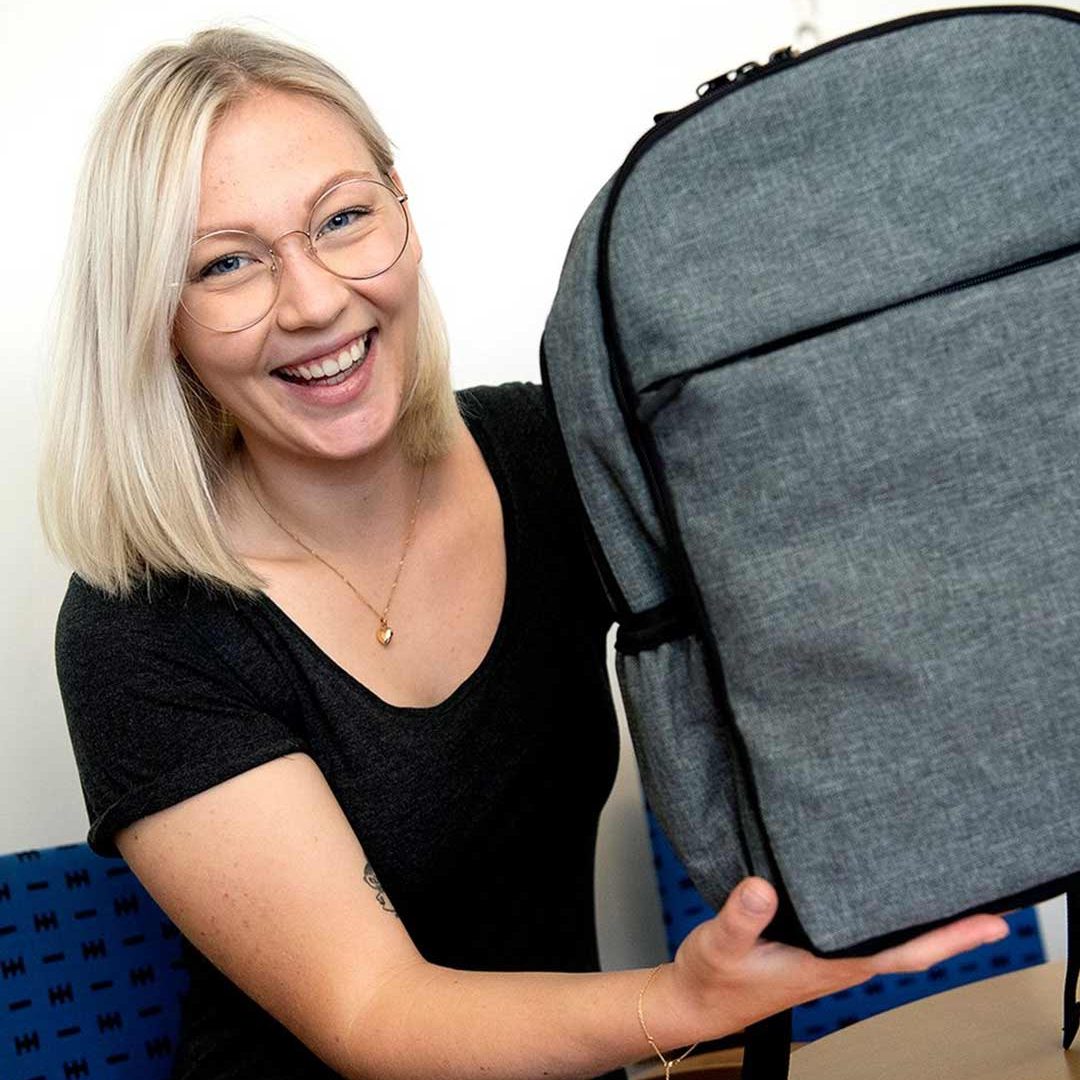 Facts about Type 1 diabetes
Every year, over 900 children and at least as many adults are affected by type 1 diabetes
T1D, as it is also known, is an autoimmune disease, which means that the body's immune system attacks its own tissues. The insulin-producing cells are knocked out, and the body becomes acutely deficient in the vital hormone insulin.
How does type 1 diabetes develop?
The insulin-producing beta cells are killed by the body's own immune system. Normally, the immune system, the white blood cells, is devoted to fighting external enemies such as bacteria, viruses, parasites, worms, etc. that might attack the body, but sometimes an autoimmune reaction occurs, i.e. there is a civil war and the immune system attacks its own tissues. When the immune system attacks and kills the beta cells, the most common so-called autoimmune disease, type 1 diabetes (childhood diabetes) occurs. The vast majority of people who develop type 1 diabetes have suffered such an autoimmune reaction, but there are probably some who suffer some direct injury, perhaps after a violent viral attack, that kills the beta cells without autoimmunity being involved.
How is type 1 diabetes treated?
Today, there is no cure for type 1 diabetes. The treatment we have today is to keep blood sugar within the target range of 4-8 mmol/l as much of the time as possible. This is done by monitoring your blood glucose with a blood glucose meter or sensor and using the readings to administer insulin, which lowers blood glucose, through an insulin pen or pump, and eating carbohydrates, which increases blood sugar levels. This is the most advanced out-of-hospital self-care available today.
There is a lot of research on the subject and Cellaviva's research unit NextCell Pharma is developing a drug candidate consisting of umbilical cord stem cells for the treatment of autoimmune diseases with an initial focus on type 1 diabetes. Our clinical studies show that we have the potential to effectively intervene and slow down the progression of the disease. The ultimate goal is to stop the progression of the disease and give the body time to start regenerating its beta cells and become free of the disease. Stem cell therapy cannot yet cure type 1 diabetes, but there are documented cases where patients have gone several years without needing insulin injections.